View cart
"Brand's Essence Of Chicken" has been added to your cart.
Jolly Horly Creamy Horlicks
$52.90
Important Note:
This is an Add-on product, please kindly refrain from checking this Single product only.
Orders with just Add-on products only, will not be processed and refunds will be made.
Product Details:
This Cheese Cake is Halal Certified.
Contains dairy, eggs, gluten and soy
Approximately 7″ and 18cm / 1kg / 10 slices
RECOMMENDED SERVING DIRECTIONS
Fully Baked
1. Refrigerate cake in freezer (<-8°C) immediately.
2. Thaw in chiller (<4°C) for 2 hours and serve chilled.
Serve within 2 days of thawing
Do not leave cake unrefrigerated for more than one hour.
Do not re-freeze after thawing.
If stored frozen(<-8°C),serve within 2 weeks.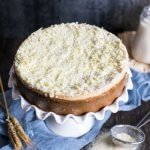 Jolly Horly Creamy Horlicks
$

52.90